Since December 2018, the European Society of Head and Neck Radiology has been organising monthly online webinars featuring specialists from all over the world.
The topics of these webinars are designed for radiologists and residents in radiology with an interest in head and neck imaging and focus on in-depth knowledge of the pertinent anatomy, pathology, clinical-radiologic and imaging-related issues in the field of head and neck and maxillo-facial radiology. The learning objectives are oriented on the Head and Neck chapters of the European Training Curriculum for Radiology.
Every month (exception August) there is one webinar organized free of charge for ESHNR members. Non-members can also attend three webinars free of charge. The duration of each webinar is approximately 60 minutes including the presentation and a short Q&A session at the end.
Webinar Certificate
CLAIM 1 CME CREDIT PER WEBINAR
Answer the feedback survey in the post-webinar email and write to office@eshnr.eu asking for your confirmation of attendance.
Certificates will be issued and sent approximately 1 week after the live webinar.
Non-members only receive maximum 3 certificates a year. If you want to receive more certificates, your ESHNR membership has to be activated.
October 12, 2021, 18:00 – 19:00 CEST
Pathologies of the Ocular Motor Nerves
Bea Kovacsovics, Linköping/SE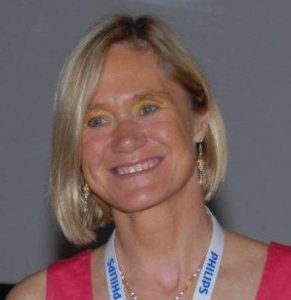 Learning Objectives:
1. Understanding the anatomy of the ocular motor nerves
2. Know the guidelines of imaging of ocular motor nerves
3. Recognize the common pathologies along the ocular motor nerves
4. Have some knowledge of a few uncommon lesions along the ocular motor nerves
November 9, 2021, 18:00 – 19:00 CET
Paranasal sinus anatomy and variants: Importance in clinical imaging
Surjith Vattoth, Little Rock/US
December 14, 2021, 18:00 – 19:00 CET
Temporal Bone Anatomy
Sarah LaPorte, Milton Keynes/UK
ESHNR Past Webinars
September 14, 2021
Andrew McQueen, Newcastle Upon Tyne/UK – Neck Ultrasound in 2021 – Multiparametric & Innovative
July 06, 2021
Teresa Nunes, Lisbon/PT – Imaging in Diplopia
June 08, 2021
Can Zafer Karaman, Aydin/TR – Lymphoma: A journey from head to neck
May 11, 2021
Leon J. van Rensburg, Cape Town/ZA – Head and Neck case presentations from Southern Africa
April 13, 2021
Bela Purohit, Singapore/SG – Imaging in Otosclerosis
March 16, 2021
Simon Morley, London/UK – Parathyroid imaging
February 16, 2021
Ata Siddiqui, London/UK – Paediatric head & neck imaging
January 19, 2021
Deborah Shatzkes , New York/US – Review of head & neck vascular lesions 

December 15, 2020
Bernhard Schuknecht, Zurich/CH – Endolymphatic hydrops: Meniere's Disease and more! 

November 10, 2020
Steve Colley, Birmingham/UK – Imaging extra-cranial head & neck infection

October 13, 2020
Ashok Srinivasan, Ann Arbor/US – Diffusion and perfusion imaging in the head and neck

September 15, 2020
Jan Casselman, Bruges/BE – Imaging approach to the petrous apex benign and malignant lesions

July 7, 2020
Nicholas Drage, Cardiff/UK PDF_Radiopacities of the jaws – made clear

June 9, 2020
Jennifer Gillespie, Brisbane/AU PDF_Imaging of the post-treatment neck

May 19, 2020
Burce Özgen Mocan, Chicago/US PDF_Inflammatory and granulomatous lesions of the orbit

April 21, 2020
Roberto Maroldi, Brescia/IT PDF_Key imaging information in salivary gland lesions
March 17, 2020
Gitta Madani, London/UK PDF_Inflammatory conditions of salivary glands and their mimics
February 4, 2020
Davide Farina, Brescia/IT PDF_Imaging of paranasal sinus cancer

January 14, 2020
Christine Glastonbury, San Francisco/US PDF_Trigeminal neuralgia and neuropathy

December 10, 2019
Berit Verbist, Leiden/NL PDF_ Congenital lesions of the temporal bone made easy
November 12, 2019
Bert de Foer, Antwerp/BE PDF_ State of the art imaging of cholesteatoma
October 15, 2019
Julia Frühwald-Pallamar, St. Pölten/AT PDF_ Spaces of the head and neck
September 23, 2019
Richard Wiggins, Utah/USA PDF_ Imaging of the facial nerve
June 11, 2019
Timothy Beale, London/UK PDF_Incidental findings in the head and neck
May 21, 2019:
Laura Oleaga, Barcelona/ES PDF_ Imaging of the skull base
April 2, 2019:
Martin Mack, Munich/DE PDF_An introduction to imaging of skull base lesions
March 12, 2019:
Gerlig Widmann, Innsbruck/AT PDF_ Imaging of cochlear implants What the radiologist needs to know
February 5, 2019:
Steven Connor, London/UK PDF_Imaging of maxillofacial, orbital and skull base trauma
January 8, 2019:
Heidi Eggesbø, Oslo/NO PDF_Paranasal sinus anatomy and inflammatory patterns
December 4, 2018:
Soraya Robinson, Vienna/AT PDF_An introduction to imaging of orbital pathology